Whatwerewe talk'n about?
Vaccinated
Site Donor
Posts

3,881
Reaction score

3,941
Location
I listened to an excellent interview this morning with William Barber on NPR.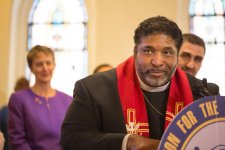 ​
He spoke at the Inaugural Church Service and is part of the
Poor People's Campaign: A National Call For Moral Revival
. One of the things he said referring to Republicans, "
if they can't beat you, they cheat you."
It's the only way they can win.
We desperately need a return to morality when one of the two major political parties has made the determination that if they can't win elections based on the issues, they will disenfranchise those demographics the oppose them. And the height of irony and hypocrisy, these people in many cases call themselves Christians.
Of interest he acknowledged that belief and adherence to Morality, does not require a religious framework, anyone who values a human moral framework relates to standards the country was founded upon, freedom, equality, democratic principles, equal rights, civil rights, equal opportunity, legal equality, etc. You don't have to be a Christian to see these values.
Last edited: