Whatwerewe talk'n about?
Vaccinated
Site Donor
Posts

4,238
Reaction score

4,219
Location
I've been keeping Tom Cat brand poison blocks in the attic and they occasionally get nibbled on. Also use Combat brand gel for roaches, they eat it. The Air Conditioner guy said rats were nibbling on the pvc pipe AC condenser drain in the attic trying to get condensed water.* I asked
rats, not mice?
He said
big hairy rats!**
* Without basements we keep our AC unit's in the attic of all places.
** I'm thinking a movie quite from Ruthless People.
Anyway I got 2 Tom Cat Brand Rat Snap Traps. Took a week but I caught one, not that big in the rat dept, but big enough. These are much better than the old fashioned wire bar mouse trap. Will provide a pic next time of the victim.
I have no idea how they get in, no holes that are visible, and I don't know if they live in the attic or just visit. It gets damned hot up there in the summer.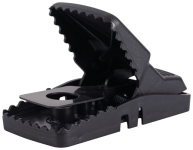 ​
Last edited: