Whatwerewe talk'n about?
Vaccinated
Site Donor
Posts

3,149
Reaction score

3,239
Location
View attachment 1930877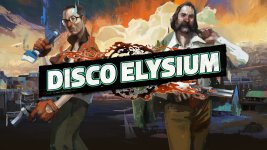 ​
Any fans out there?
Recently purchased on sale at Steam, I played some last night, outstanding writing, you are a struggling detective in this alternate reality (?) RPG, one of the attributes you can pick has your neck tie talking to you. So far my impression is that the game plods along. It is definitely in your best interests to read up on builds and the skill system to know what you're getting into, and what to expect,
I am still interested in the story, very atmospheric, and have not yet gotten into a fight to be able to judge this aspect of the game. It is not dynamic, my guess is fights are choice driven, dice rolls, and skill based, no actual dynamic control of your character.
The Final Cut elevates Disco Elysium from an already phenomenal RPG to a true must-play masterpiece.
www.ign.com
Last edited: