Mama's lil stinker
Vaccinated
Posts

8,455
Reaction score

16,501
Location
Main Camera

Sony
A friendly reminder for Republicans, the language they're attempting to use has never been supported in forums and social media. Just because they're mad about it now doesn't mean it wasn't always in place, it's just that their escalation of anger and hate have reached levels that breaks the rules of most platforms.
For example, Parler bragged about not suppressing your free speech and hate and it turned into a cesspool of hate and vulgarity right out of the gate. Case in point: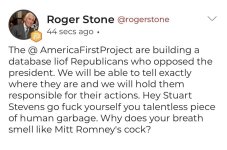 Another way to look at this is using the MacRumors PRSI methodology, as long as you're not attacking another member you can say it. You can't say "Libtard or Trumptard" but you can say "Were Nazis really so bad? let's discuss" and in return gather with like minded people. IMO, this is just as bad.
There are (or at least were) laws against screaming fire in a theatre but short of that owners have a responsibility to use common sense on what is allowed on their platforms and should be monitored to ensure they're not used in ways that can't be used to recruit or bolster terrorism.
Just my .02