Posts

3,450
Reaction score

6,796
NYC Couple Removed From Ferry for Refusing Masks, Blame Black Lives Matter
A couple who were removed from a New York City ferry after refusing to wear masks ranted about Black Lives Matter, government control and what they described as discrimination against white people in America.
The husband and wife were confronted by fellow ferry passengers and NYPD officers Saturday night after they refused the captain's orders to either wear a mask or find another way back to their Bay Ridge neighborhood home in Brooklyn, New York. Video recorded by Gothamist's Jake Offenhartz shows the couple engaging in a 45-minute standoff in which they can be heard saying they were singled out because of their race. The woman involved in the incident claimed they wouldn't have been forced to wear a mask on the city ferry "if we were f**king Black."
...The couple claimed to have a medical condition which precludes them from having to wear masks, but they were unable to provide such proof to police—and the man began smoking a cigarette throughout much of the incident.
Other increasingly impatient passengers on the ferry can be overheard demanding that the officers remove the defiant couple from the boat. "We got to go home," one man exclaimed. The couple were given an ultimatum to leave the boat and dock area or they would be arrested. They each received a summons for disorderly conduct. The couple asked NYPD officers for a ride home, but police told them it was against protocol to give them one.
"He's shaming us," said the man, who only identified himself as David to both police and Gothamist. "Because we can't wear a mask, we're being discriminated against."
"If we were f**king Black, I can guarantee you that guy would never come out and tell us to put a mask on," the woman said, before her husband chimed in agreement: "Right, because Black lives matter."
The two went on to say they plan to file a lawsuit against the Metropolitan Transportation Authority (MTA) and the state government over the requirement to wear a facial covering.
I wonder if they know these people.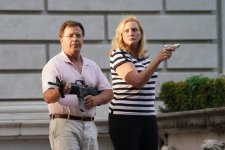 ​