Whatwerewe talk'n about?
Vaccinated
Site Donor
Posts

4,238
Reaction score

4,219
Location
...and regarding defense of the Rodina, and my dear
Blue Eyes,
not for the first time.
Trump downplays Russia in first comments on cyberattack​
WASHINGTON — (AP) — Contradicting his secretary of state and other top officials, President Donald Trump on Saturday suggested without evidence that China — not Russia — may be behind the grave cyberattack against the United States and tried to minimized its impact.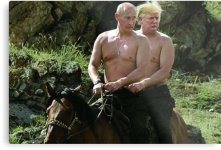 Seen on the Mar-A-Lago back 40​