Whatwerewe talk'n about?
Vaccinated
Site Donor
Posts

4,238
Reaction score

4,219
Location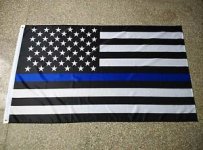 ​
I've seen several of these in the last few days and have to wonder what the flyers of this flag think it means? On a truck, two equal sized flags, the US flag and the Blue Line Flag. My understanding is that it is supposed to represent support of police, the blue line being the divide between order and anarchy, but these have been seen other places and seems to have been adopted by Right Wing fringe groups including Trump Supporters. What do they think it means? Is this some kind of
new America
symbology for when the Head Sociopath seizes power?
2017:
One flag maker says the flag's use by white supremacists in Charlottesville "tarnishes what it and our nation believe in."
2021:
Correction Oct. 29, 2020: Correcting Sharlet's title in paragraph three. Removing "later" from paragraph five. Switching order of paragraphs five and four.
www.reuters.com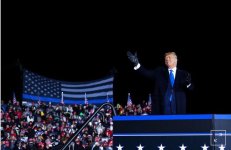 The Head Sociopath emerges from his hole​
Last edited: