Whatwerewe talk'n about?
Vaccinated
Site Donor
Posts

4,102
Reaction score

4,124
Location
20 July 1969, I was 16 when the first manned crew landed on the Moon. Surely a Moon base would be established by the turn of the Century aka 2001 A Space Odyssey an epic movie that had been released the year before depicting a Pan Am Shuttle docking with an orbital space station, as a waypoint on a trip to a Moon. Now 53 laters I'm no longer planning on a Moon Base, hell we'll be lucky to still have a symbolic space station in a couple of years... The Human Race just does not appear to have its act together as we watch the polar ice cap melt.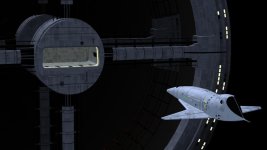 ​
2001: A Space Odyssey: Directed by Stanley Kubrick. With Keir Dullea, Gary Lockwood, William Sylvester, Daniel Richter. After uncovering a mysterious artifact buried beneath the Lunar surface, a spacecraft is sent to Jupiter to find its origins - a spacecraft manned by two men and the...
www.imdb.com
Last edited: